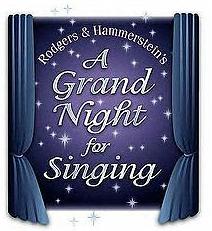 May Production "A Grand Night for Singing
After the success of their last pantomime, Cinderella, Cave Players presented their May production on Thursday and Friday 20th and 21st May at the Village Hall, North Cave.
This year's production was, as the title suggested, a grand night for singing, commemorating the 50th anniversary of the death of Oscar Hammerstein, who, together with Richard Rodgers was one of the greatest song writers of the 20th Century. The evening included music from Oklahoma, Carousel, The Sound of Music, as well as many more memorable Rodgers and Hammerstein musicals.

Here is a review from an audience member.
Dear Caveplayers
Once again Cave Players gave audiences two evenings of enjoyable entertainment with their choice of music from the shows of Rodgers and Hammerstein, commemorating the death 50 years ago of Oscar Hammerstein. They put their own slant on such shows as Oklahoma, Carousel, South Pacific and The Sound of Music to name but a few. Making appearances were three slightly dodgy nuns, a group of sex-starved sailors and also getting in on the act was a very cute pantomime cow! Whilst not having any delusions about being an operatic society, Cave Players exude enthusiasm and make the best use of the good singers they have amongst them whilst at the same time making sure that everyone enjoys being a part of the show; including the audience. A truly heartfelt performance which shows the whole ethos of the group; a warm, friendly, fun-loving bunch of people who enjoy doing what they do and will continue to do so as long as they have an audience to entertain.